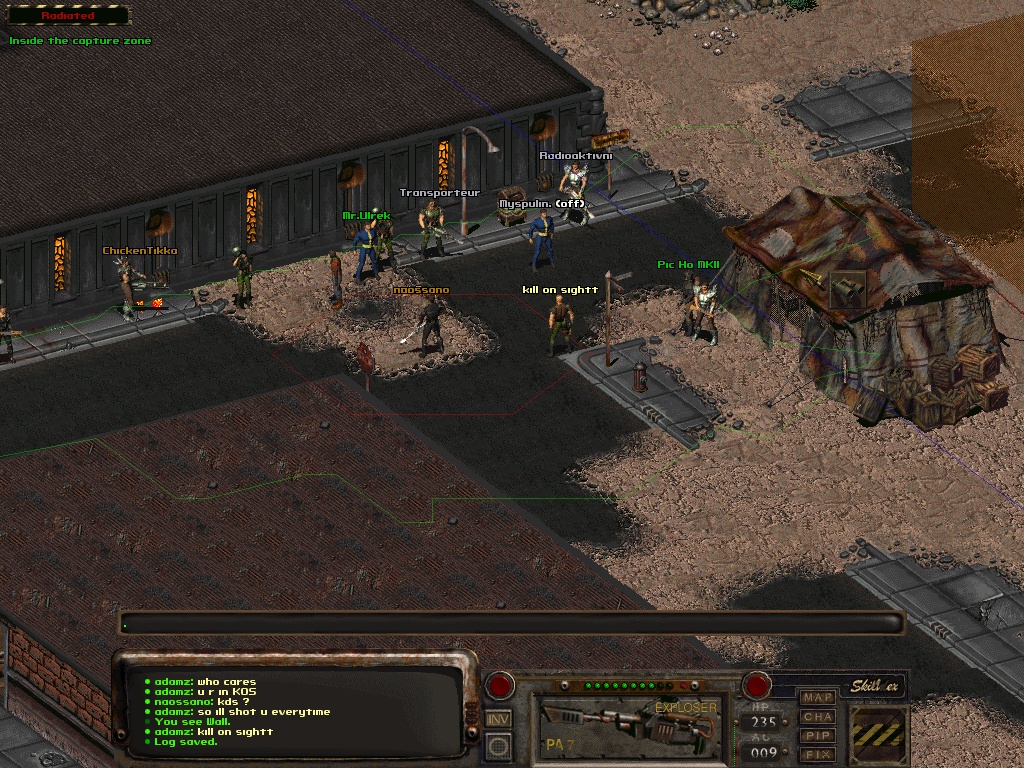 Very harrassing issue between Mr.Ulrek and adamz.
The first one claims to have been a pk in Reno, a while ago, but did some work for the benefit of Redding. (chased slave with him)
The second seems to be an hawk member, who hunt Ulrek for being a pk. (have a huge hate agains't him)
Anyway, we can't let them kill each other any time.
What do we do about that ?

naossano




Messages

: 960


Date d'inscription

: 2010-11-22


Localisation

: Marseille



No shoot in Redding for people who don't do mess in town.
So has spoken the government.
Ulrek is doing no mess in Redding.
problem. An other hawks named NAZER SE said it would be war agains t hawks if we attack adamz.
War with hawks could lead to a war agains't jdc...


naossano




Messages

: 960


Date d'inscription

: 2010-11-22


Localisation

: Marseille



Ulrek isn't protected outside Redding so I suggest to solve your issues outside, without harm in town.
As long as Ulrek or any other wastelander do not mess with us he is safe in Redding. WWP will not interfere.

Killian




Messages

: 206


Date d'inscription

: 2010-11-25


Age

: 30



I studied this case more than a week ago : Ulrek is not only accused to be a pk, he confirmed it himself*.

He killed Adamz with 100k caps in Reno when he was buying a car, we (me and adamz) confronted Ulrek to the facts and admitted his guilty. From this point Adamz asked to get his caps back to forget this issue.... Then Ulrek became a bit "agressive" in his word, telling that Reno is "no law city where everyone shoot at each other".... IF we talk about Roleplay, Adamz has justification to shoot him on sight, it's a kind of personal ennemy.

So this is again a cohesion problem like we had about the tributes, i knoz Redding rules but you can't ask people to be "roleplay" in Redding and forget about their pasts.

*story that happened : Adamz was accusing Ulrek, Ulrek was telling it was bullshit, that he is APK, that never he killed someone.... As a lawyer, i threaten him follozing Adamz purpose ; Afraid of being blacklisted on Lawyer list, Ulrek finally admit his guilty : murders of at least 2 Hawks and the steal of 100K caps. From here, we asked him to get back the caps, he refused, and proposed to offer a lockpicked hummer to Adamz : adamz refused, and it's his right, he just wanted his 100k caps to forget this crimes. Then situation stay suspended for a while because Ulrek left to help some people on something else(i don't remember caravan or maybe just hunting/farming).


Players should solve their personal matters outside of redding and outside of our sight. We can't add anything to issues that only touches two players. Making personal quarrels public is never good idea.

avv




Messages

: 266


Date d'inscription

: 2010-10-31



Anyone shooting a citizen or a peacefull wanderer inside Redding while WWP is controlling the city will be considered as a TROUBLEMAKER, not matter to which faction he belong to (including JDC). We wont change the rule for Hawks or for anyone else.

Balio




Messages

: 72


Date d'inscription

: 2010-12-18


Localisation

: Belgium



That was the deal i gave to Adamz and Ulrek, if Ulrek have to trouble with JDC, he will be blacklisted for "outside" outlaws hunts.

---
Permissions in this forum:
You
cannot
reply to topics in this forum